WEEKEND SCHEDULE AND SIGN UPS BELOW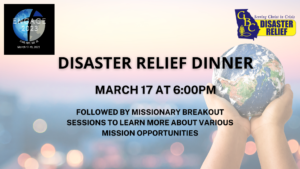 Friday, March 17, 2023
6:00 pm: Dinner provided by the Disaster Relief Team free of charge; however, an offering will be taken for the 11F Disaster Relief Feeding Unit
7:00 pm: Missions and Ministry Breakout Sessions – Rotate at 30 minute intervals. Hear directly from missions and ministry representatives including Georgia Baptist Mission Board, Good News Club, Foster Care, NAMB Missionaries Kerry and Twyla Jackson, Servolution Ministry Director (in Tennessee)
Child Care will be provided for Birth – Preschool
Saturday, March 18, 2023
8:00am: Light Breakfast for those participating in the Engage Events
9:00am-Noon: Hands on Missions/Ministry opportunities for the entire family:
*Newton Pregnancy Resource Center
*Walton County Pregnancy Resource Center
*F.I.S.H. Ministries
*Senior Adult Projects
*Food Distribution Event at FBCSC
*Interactive Prayer Walk-Friendship Park
*Social Circle Elementary School
*Foster Care "One Day Fund Day" at Social Circle Community Center
*Master's Touch
*Prayer Tent–Freshway Market
There will be child care for Birth-Age 4. Other children are encouraged to participate with their parents
Saturday, March 18, 2023 5:00-8:00pm
There will be 35 missions and ministry teams in our church with exhibits, as well as a few ministries we support represented. Drop by the Fellowship Hall to learn more about these opportunities, see what is available and where you might serve in the future.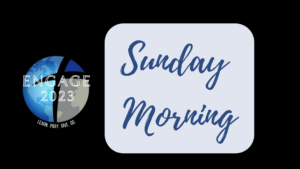 Sunday, March 19, 2023
9:15am: Missions/Ministry Leaders visit Sunday School classes.
10:30am: Missions/Ministry Leaders join us for worship.
Kerry Jackson will be sharing his gift of art during the service. This will be a great time for all ages to see a creative way of sharing the Gospel. Keith Ivey from the Georgia Baptist Mission Board will be sharing how we can continue our partnership for missions.